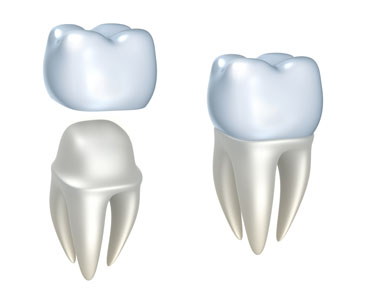 We use dental crowns in McKinney, to accomplish a variety of goals. They can be used to improve your appearance, restore damaged teeth, and even replace them. A crown is a versatile solution that has multiple applications, and as such, we use this solution on a frequent basis. In the past, many people wore crowns made of silver amalgam. This is so common, in fact, that we treat many patients that are still using this type of crown and have a metal smile to prove it. Fortunately, we are now able to offer an improved solution by creating crowns that are all-ceramic or ceramic-on-metal. This allows us to use crowns on the front teeth as well as replace older crowns with a natural looking option.
The Process
If you are in need of a dental crown, we will start by taking an impression of your mouth. The crown itself needs to be created in the dental lab and, in order to do so, we need to know the exact specifications for the tooth that it is being placed on and how that tooth interacts with your other teeth to create the perfect bite. This requires precision during the creation process, and we are confident in our ability to produce a crown that will be comfortable.
In order to prepare your tooth for a crown, a small portion of the enamel will need to be removed. This is to ensure that when the crown is placed, it can surround the tooth without causing irritation to the surrounding teeth. Since the tooth must be prepared, we will administer sedation to ensure that you are comfortable during the process and fit you with a temporary crown to wear while the permanent one is being created in a lab. Once it is ready, you will return for a second appointment to have the crown fitted and bonded in place. When placing dental crowns, we typically recommend that patients take a day off of work for the preparation and fitting appointment since teeth may be sensitive afterwards.
Restorations in McKinney
One of the main reasons that we use dental crowns in McKinney is to restore teeth that have become damaged. If a tooth has been cracked, chipped, the enamel has worn down, or it has been injured, a crown can be an excellent solution for restoring and protecting the tooth. Since a crown surrounds the tooth entirely, it prevents anything from directly touching the natural tooth. This means that you can bite down with force, without being concerned about the tooth becoming even more damaged and without the fear of discomfort. This makes a crown a superior option when compared with dental veneers or bonding since they do not surround the tooth like a crown does.
Appearance
You can also use dental crowns to accomplish a variety of goals that you have for the appearance of your smile. For example, they can be used to close gaps in between your teeth, cover dark stains and change the overall shape and size of your teeth.
---
Related Posts
January 14, 2020
Learning more about how dental crowns can save your damaged teeth is a great idea. There are many different types of dental restoration options available to ensure you have a healthy mouth and crowns are …
---